DecryptSQL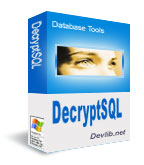 Accurately and quickly decrypt MS SQL Server stored procedures, views, functions and triggers.
DecryptSQL is a powerful script decryption tool for MSSQL. It can accurately and quickly decrypt database objects that have been encrypted using "WITH ENCRYPTION", including stored procedures, views, functions, and triggers. Let's view the complete SQL script.
Now feel the convenience of DecryptSQL!
"It has remained one of Download.com's popular database applications since its launch."


Key Features
Work in Microsoft™ SQL Server 2000/2005/2008/2012/2014/2016/2017/2019 and Microsoft™ Database Engine (MSDE).
Decrypt SQL Stored procedure, trigger, function, view of ANY size.
Full T-SQL syntax highlighting for faster, easier reading.
Simple to decrypt - just click. Not require any knowledge of T-SQL or script.
Support Multi-Language, such as English, German, Chinese, Japanese and more.
Support the decrypt of the batch.
Export to HTML & RTF format.

Screenshot
Our Clients
Reviews
Awards
---